Fossil Free Funds has added a new feature - now you can search for funds based on what grades they get across six different environmental and social issues.
On the Fossil Free Funds search page, click the "Other issues" tab to see how a fund is graded on fossil fuels, deforestation, gender equality, military weapons, civilian firearms, and tobacco. Each fund earns a letter grade for each issue.

In this screenshot of Fossil Free Funds, searching for a Vanguard S&P 500 index fund and clicking the "Other issues" tab shows six different grades for different issues. [Link]
Finding top-scorers
You can now filter by grade as well. Click the "Search settings" button to see the available search filters. Using the new options below "Filter by issue," you can create complex searches like "Show me all the funds that earn a B or above on each issue."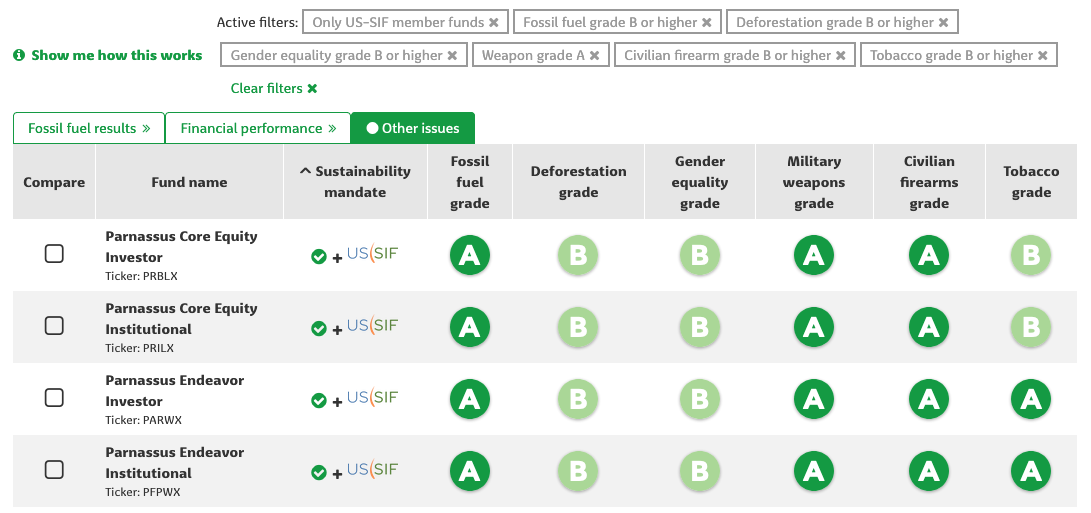 In this screenshot of Fossil Free Funds, filters have been added to search for funds that earn at least a B in each category, and are members of US-SIF. The first few search results are shown. [Link]
Learning more
Click any grade to go to the fund profile page with more information for that issue. For example, if a fund earns an F for military weapons, clicking that grade would take you to the list of companies inside that fund causing it to earn an F.
These updates are available on each of the Invest Your Values sites. See them all at asyousow.org/invest-your-values.
Stay tuned
We've got more improvements on the way: we're working with American Friends Service Committee on adding a grade for investments in companies profiting from mass incarceration; we'll be updating our gender equality grades to use newer, more detailed company data from Equileap; and we're developing an updated version of our Action Toolkit for each site.
Keep in touch! Send us a note, or sign up for email updates.