Vanguard's customers expect the asset manager to exercise duties of loyalty and care in its decisions. But Vanguard's actions raise the question of whether it is insufficiently managing the risks to client investments from climate change. Now, Vanguard clients are speaking up and making it clear to Vanguard that they won't accept the firm putting their financial futures at risk.
Are you a Vanguard client? Send Vanguard a letter asking for action on managing and mitigating climate-related financial risks.
Vanguard backslides, lags peers on climate commitments
Unlike peers, Vanguard has refused to join the Climate Action 100+ corporate coalition, and recently decided to leave the Net Zero Asset Managers Initiative, a group of over 300 asset managers around the world who have committed to supporting the goal of net zero greenhouse gas emissions by 2050. Vanguard also lags behind peers on engagement, with one of the worst records of voting for shareholder climate resolutions of any firm in the industry. Vanguard's backsliding on climate commitments is a potential breach of the firm's commitments to clients.
High carbon = high risk
Vanguard has stated that "climate change represents a profound, fundamental risk to investors' long-term success, and we approach climate risk from a fiduciary perspective." Yet despite this recognition of climate risk, many Vanguard funds have substantial investments in carbon-intense industries, possibly sacrificing long-term value. One study cited by the nonpartisan Government Accountability Office noted that investments in oil, coal, and gas could experience a decrease in annual returns of nine percent through 2050. Across 102 Vanguard stock funds, Fossil Free Funds tracked $437 billion in fossil fuel investments, with an overall exposure of nine percent.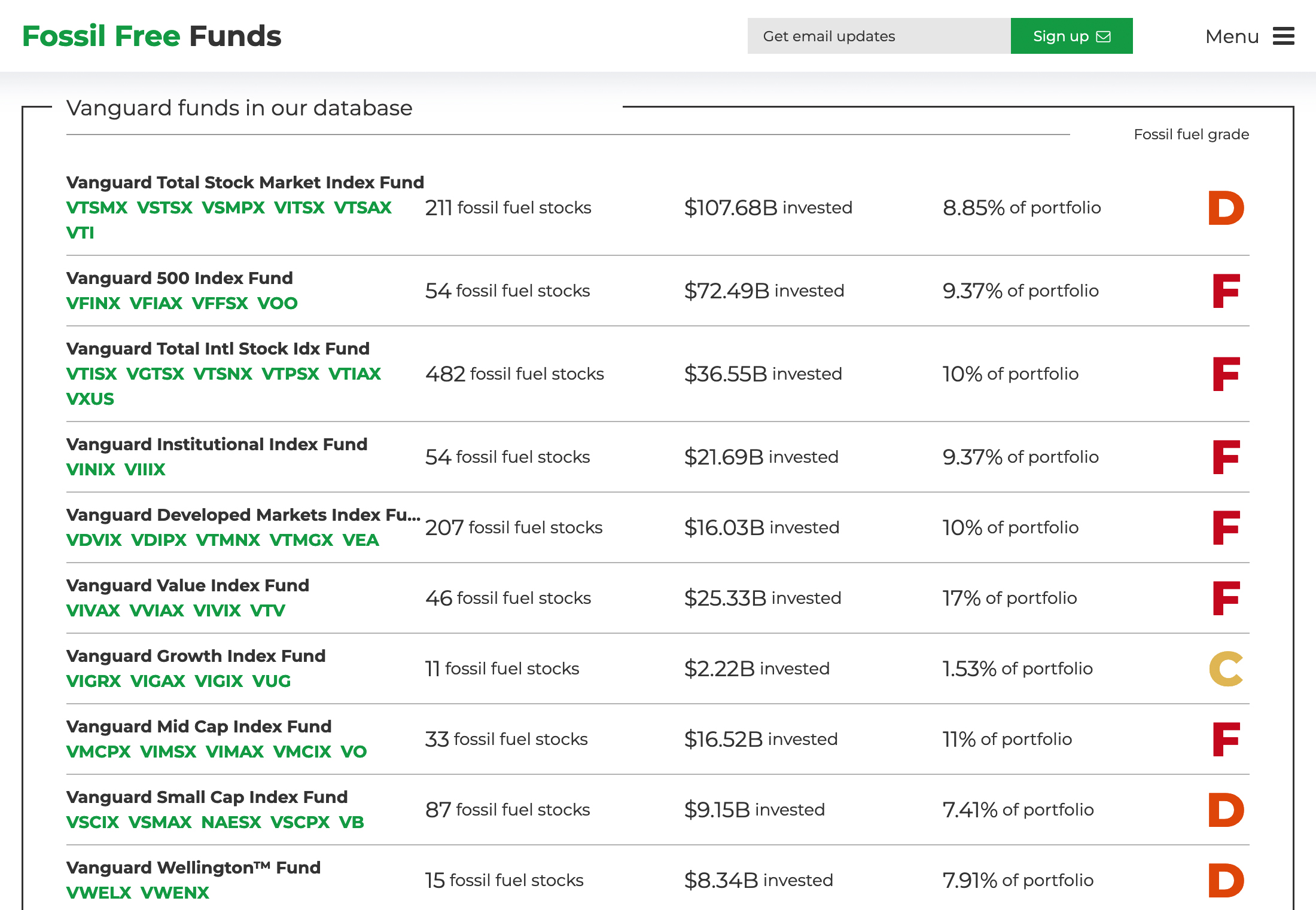 Screenshot from Fossil Free Funds. Many of the largest Vanguard funds earn low grades.
Vanguard clients may be missing out
Until Vanguard applies rigorous climate risk criteria and analysis to all its fund options, clients will remain vulnerable to climate-related financial risks and may also fail to benefit from the opportunities presented by the shift towards a low-carbon economy. This great transition is already underway, with more than 80 percent of new electrical capacity in 2022 coming from renewable sources. Investing in renewable energy stocks beat a fossil fuel-focused strategy by more than threefold in the last decade.
Investors are no longer standing for climate inaction
Vanguard's failure to address the portfolio risk associated with climate change has resulted in adverse publicity, as the public and investors alike are beginning to turn their backs on companies who are not prepared to stand behind their commitments and take climate action. Vanguard clients have begun demanding that the company addresses investor concerns about the material risk that climate change poses to their financial futures.
If you are a Vanguard investor concerned about how Vanguard is failing to manage and mitigate the impacts that climate change poses to your financial future, you can join investors and send Vanguard a letter to demand a response to your climate risk concerns.