Even before the COVID-19 pandemic brought on a sudden economic slowdown and the price of oil collapsed to a nearly two-decade low, fossil fuel companies have been the most volatile and weakest financially performing sector in the U.S.
We invite you to join us for a webinar exploring fossil free investing, and how aligning investing with your values may be your safest path to a secure retirement portfolio. The webinar will include a tour of FossilFreeFunds.org.
Opportunities and Risks of Fossil Free Investing
Wednesday, April 22
10 a.m. PDT / 1 p.m. EDT
Panelists
Andrew Behar, CEO of As You Sow
Mark Campanale, Founder & Executive Chairman of Carbon Tracker
Kathy Hipple, Financial Analyst of Institute for Energy Economics and Financial Analysis
Bob Litterman, Partner at Kepos Capital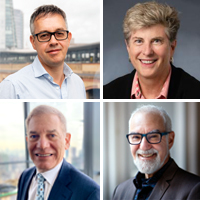 Join us to learn about fossil free investing
Fossil fuel companies — from "supermajors" like ExxonMobil to small oil-field service companies — have been the most volatile and weakest performing sector in the U.S. for the last decade. That investment risk materialized years before the COVID-19 economic slowdown and the oil price collapse. With a wave of debt coming due through 2024, any prolonged period of low demand or lack of credit could push many fossil fuel companies into bankruptcy, especially the small ones that may be gobbled up in a wave of acquisitions.
There is a way to avoid this risk. Fossil free investing is as much about minimizing risk in your portfolio as it is about not investing in the companies creating and profiting from climate destruction. Choosing fossil free funds for retirement savings may offer protection from energy sector volatility, and those freed-up dollars can be reinvested in sustainable clean energy and other sectors important to the transition to a low-carbon economy.
Join us to learn about fossil free investing.