Investors are increasingly turning away from fossil fuel investments as the global economy transitions to a low-carbon economy. Over the past decade, the flow of money into clean energy and efficiency infrastructure has tripled to about US $1 trillion annually. In order to help investors identify opportunities in the clean energy economy, As You Sow and Corporate Knights recently released another update to the Carbon Clean 200™: a list of 200 companies leading the clean energy transition.
The Clean200 lists the largest 200 publicly traded companies ranked by clean revenue. From 35 countries around the world, these companies are putting sustainability at the heart of their products, services, business models and investments, helping to move the world onto a more sustainable trajectory.
Investors have the power to help the world transition to a decarbonized economy. Fossil Free Funds has integrated the updated Clean200 into our database to help investors find mutual funds and exchange-traded funds that support a low-carbon transition while still generating strong returns.
Since its inception six years ago, the Clean200 has outperformed fossil fuel benchmarks by 30%. For instance, $10,000 invested in the Clean200 index on July 1, 2016, would have grown to $19,121 by Jan. 31, 2023, versus $16,131 for the MSCI ACWI/Energy benchmark for fossil fuel companies.
Clean200™ vs MSCI ACWI vs MSCI ACWI/Energy (July 1, 2016–Jan. 31, 2023, Total Return USD Gross)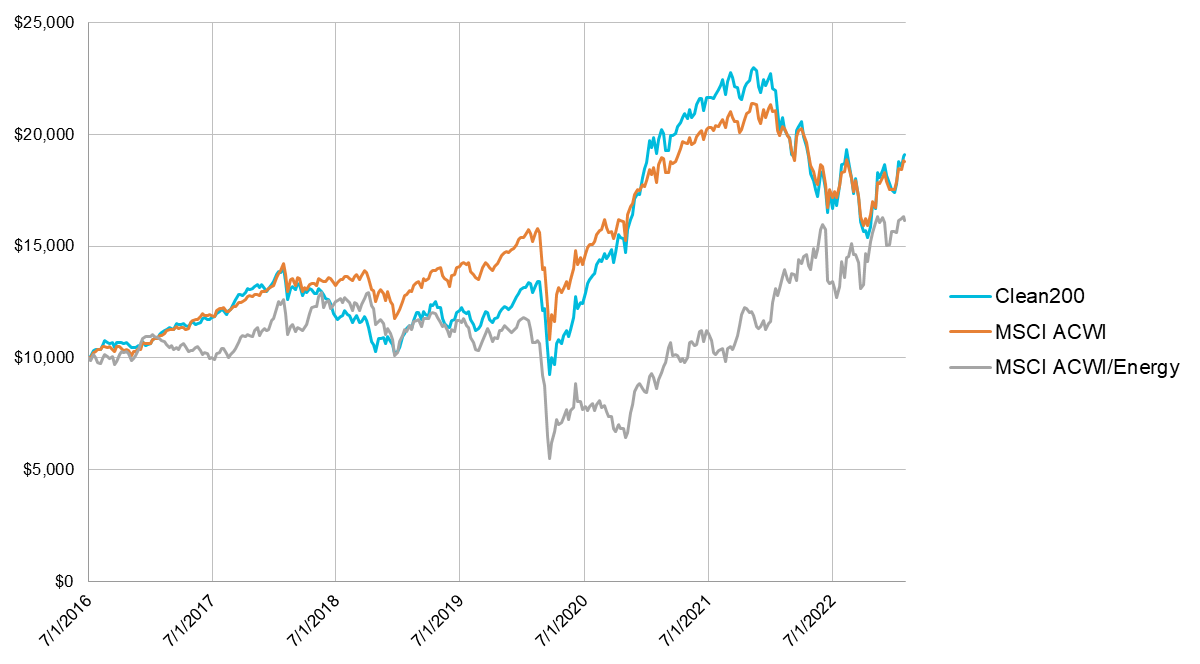 The shift to a clean energy economy has already begun. If you are one of the millions of Americans saving for retirement, you have the power move your money out of companies that profit from the extractive economy, and instead invest in a safe, just, and sustainable world. Get started with Fossil Free Funds.